Car Rental Dunedin Airport
If you're flying into Dunedin International Airport, the best and easiest way to explore the vibrant city of Dunedin is by hiring a car or van from RaD Car Hire Dunedin. Quality vehicles at affordable prices are available for hire 24/7. Your rental car will be located in one of our dedicated airport car parks, with the key located in a security box. Simply enter your code, retrieve the car key and drive away. Renting a car in Dunedin with RaD is fast and efficient, with no waiting or queuing.
Choosing a Dunedin Airport car or van rental from RaD is easy. We have a range of cost-effective rental vehicles such as fuel-efficient small cars, AWD/4WD wagons, spacious people movers and vans. A luggage trailer is also available.
Rental car pick-up and drop-off instructions
PICK UP:
Go to the RaD Car Hire car park (shown on map below)
Find vehicle with your name displayed in driver window
The sheet in the window will have what number key box your key is in – key boxes are located on fence in front of vehicle
To access the key, enter last four digits of your confirmation booking number.
RETURN:
Park in RaD Car Hire carpark
Place key in key drop box located in middle of fence.
FRIENDLY REMINDER: Please return vehicle full of fuel. A petrol station is located 1 Km from the airport. Vehicles not returned full will incur a $10 fill fee.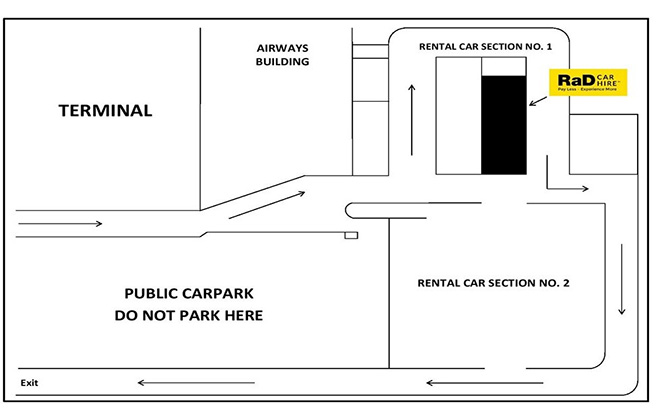 Our location: where to find us at the Dunedin Airport terminal
RaD Car Hire's Dunedin Airport location is 25 Miller Road, Momona, Dunedin. However, you can collect your vehicle from the rental car park, just a short walk from the Dunedin Airport terminal building.
Our range of Dunedin Airport rental cars
We offer Dunedin Airport car hire to cater to all your travel needs, ensuring your trip to New Zealand's South Island is a memorable one. Browse our selection of fuel-efficient compact cars, ideal for navigating Dunedin City. For those seeking a touch of luxury, our premium sedans are perfect for exploring the South Island. Families and friends can opt for our spacious SUVs, offering comfort and ample space for luggage. And if you're feeling a bit more adventurous, why not try our rugged 4WDs, designed to conquer New Zealand's off-road treasures.
Why choose RaD Car Hire Dunedin Airport?
We are a New Zealand-owned and operated company with 23 branches across the North and South Islands of the country. Our fleet of reliable car rentals is carefully maintained, ensuring your journey is smooth and effortless. What truly sets us apart is our friendly and welcoming service. We don't just hand over the keys; we offer a warm Kiwi welcome. Hire a car at Dunedin International Airport with RaD and prepare to set off on your South Island adventure with the confidence that you're in good hands.
Fill out the booking form and reserve your rental car today!
Securing a hire car at Dunedin Airport is a breeze. Simply head to our booking page and enter your rental location and dates. We'll show you all the available cars and vans so you can choose the perfect one to suit your needs and budget. Once you've made your choice, our secure system will guide you to complete your reservation, and we'll send you an email to confirm.
Car rental Dunedin Airport frequently asked questions
How far is it from Dunedin Airport to the city centre?
The journey from the airport to the Dunedin CBD is approximately 27 kilometres, typically taking around 25 minutes by car.
How much does Dunedin Airport car rental cost?
We offer a wide selection of cheap car hire at Dunedin Airport, New Zealand. Explore our rental cars at Dunedin Airport to find the perfect high-quality vehicle that matches your needs and budget. We recommend you book online in advance to secure the cheapest car rental at Dunedin Airport. Sign up on our site to be the first to know when we drop great deals.
What is the most popular hire car at Dunedin Airport?
Our Mitsubishi Mirage Compact Hatch is our most popular rental car at Dunedin Airport. This little gem has a 1.2-litre engine and automatic transmission, making it ideal for day trips and tours for up to four passengers.
How old do I need to be to hire a car from Dunedin Airport?
Drivers must be at least 18 years old and hold a valid New Zealand or overseas driver licence or an international driver's permit to rent a vehicle in New Zealand.
Can I rent a car from Dunedin Airport and drop it off at a different location?
Yes, you can. However, this is subject to availability, and a minimum rental period and one-way fee may apply.
Things to do near Dunedin Airport
The best things to see and do are located just a short drive from the airport.
The iconic Tunnel Beach, with its sea-carved tunnels and cliffs, is only about a 20-minute drive from the airport. You can also head to Taieri Beach to relax on the sandy shores and soak in the coast's natural beauty. Wildlife tours are a great way to catch a glimpse of seals, sea lions, and various seabirds along the Peninsula. Drive to the peak of Signal Hill for panoramic views of the surrounding countryside from the lookout point.
Head to the Dunedin Botanic Gardens. You'll discover lush and diverse plant life in these beautiful gardens in the heart of Dunedin. Visit the Otago Museum to immerse yourself in the cultural and natural history of the Otago region. Check out Baldwin Street - once recognised by the Guinness World Records as the world's steepest street. Larnach Castle is a must-see - New Zealand's only castle, set amidst the rolling hills of the Otago Peninsula.